I have been drawing other things. Not many things though - largely self promotion and jam.
MAYBE I SHOULD DRAW JAM TO PROMOTE MYSELF.
...let's just let that go now, shall we?
Oh also before we pop on I'll just slap up a panel from THE OTHER THING I've been drawing this fortnight -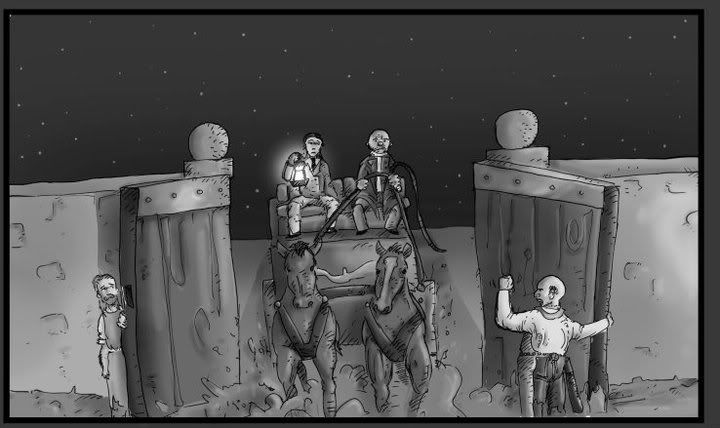 Watch out for a page of the Mammoth Jack epic - (written by
Dirk van Dom
) in
Temple APA
later this week. Very pleased to be drawing things that will get seen by people again. Also horses - but I barely draw them. Chunky legs.
"A Younger Sun" for
The Weekly Themed Art
Blog (or TAB) - the theme was dinos/monsters and I longed to draw a Brachiosaurus. They are my favourite dinosaurs because they were awesome and also they had long awesome necks and they were green.
THEY WERE FUCKING GREEN. They didn't have a feathery spine, wikipedia. THEY WEREN'T GREY AND BLOTCHY THEY
WERE


FUCKING GREEN.
I'm not writing a thesis about it, I'm not discussing it with anyone. I'm not telling you how I know they were green. Clue: It involves time eggs. Also - who knew the atmospheric composition was different in the Jurassic era and humans couldn't breathe it?! I certainly didn't. Nearly died.
This was, I believe, for a young man called Daniel Madley who became eightieth like for the ever-swelling
Dr WTF Facebook page
. Do pop along - ! Someone suggested I added Christ into the mix and I was like NO WAY Jetsharks I can believe, Invisible Bears I can believe - but Jesus?! You must be out of your cake.
Profound apologies for my second TAB this fortnight - specifically to the superlative mind of Henry Flint who I desperately aped to produce this testicular monstrosity. Shakara is in his little ship there and he's plunging through a giant eye made up of giant eyes. Instead it looks like a pierced ball sack. Sorry.
I recommend Henry Flint
.
"That Darn Masterchief" aka "Achievement Unlocked" aka "I can't draw licenses very well" - for
Richmond Clements
- who became the ONE HUNDREDTH LIKE for Dr WTF. A million thank yous - much beyond my shaky paltry Master Chief. I never understood Halo. It's like - there's this planet, and like, you're shooting, and like - then you're not. What's the deal with that. - and as for my Doctor Who anthology - it's in it's final stages and the digital version goes on sale
NEXT WEEK (PROBABLY)
Very exciting - and the print version? Well just turn your pretty eyes downward...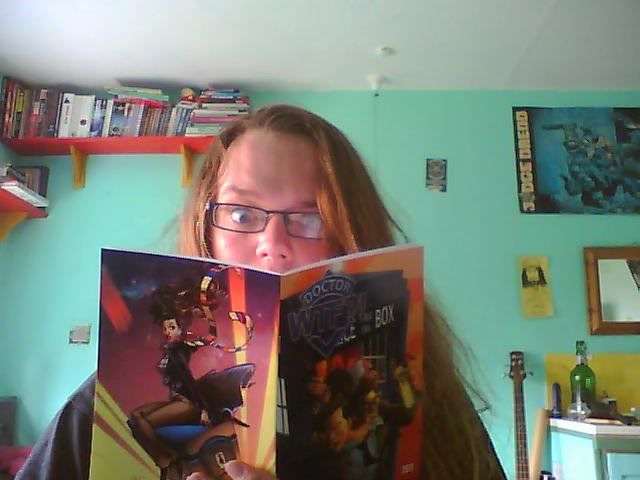 Finally - the third TAB entry is my interpretation of Judge Anderson. A bit Bibi Andersson, a bit ... androgynous ... stern and not at all busty or nipply or any of that shit. It genuinely irritates me. I mean -
this shit
is what makes the glorious unique world of Judge Dredd that little bit more bland. SHE WOULD AT THE VERY LEAST WEAR A BRA.
SERIOUSLY. PUT ON A BRA ANDERSON WE'RE TRYING TO STOP A DEATH CULT FROM KIDNAPPING THE DAUGHTER OF A WEALTHY INDUSTRIALIST.
IT'S NOT EVEN COLD IN HERE. HOW ARE YOUR NIPPLES PUSHING THROUGH LEATHER?!
Right, little finger off shift - little mind off rant, little bum off the chair - and back to the donkey violence - !