G'day you exceptionally gorgeous blog-reader you,
It's been an incredible fortnight AND A BIT as I've done several noteworthy things
- drawn some stuff
- officially aged another year
- recorded the last Owen in Rock
First, let's just catch up with what my orrible hands and mind have been collaborating on, NORMALLY WITHOUT ME NOTICING.
Movement by Crazyfoxmachine
Crabcake... returning... MY DOK. What do you mean you've never read Crabcake, ARE YOU MAD?! I can't help you with your growing insanity but I can fill in your Crabcake needs.
Finally - the cover of my portfolio that sat gamely on my table at the Bristol comic con.....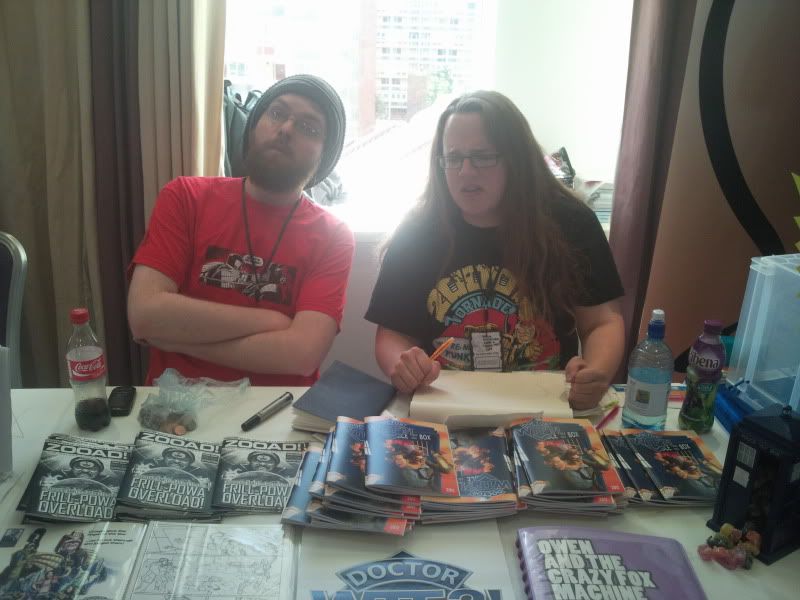 After a brisk start my companion & I made our way to the con and sheepishly put together our table - cue alternate view - !
It was... amazing, to say the least. Rooms stuffed with artists, writers, floggers - all vying for attention, appreciation and sales. Costume'd gadabouts trawled the walkways - in all manner of guises -
Who goes that far and doesn't bother wearing a wig? That's a level of non-commitment I'm not even willing to think about. We sold a lot of Dr WTFs that day - thanks to the astounding level of artwork and the extraordinary loveliness of 2000ad forum folk. The most interesting purchase was to Johnny "I'm David Knight" Alpha (Writer of Dr WTF's "Quarry Planet") ...
Those aforementioned boarders mostly congregated around a table hosted by these lovely folk -
*works it out*
Right. That's Bristol over with. If you weren't someone that I met or weren't involved, and you stuck with the whole thing, I'm bloody grateful that you read it. It took ages to write but it's basically been the pinnacle of my comic life so far - it deserves that kind of report really.
Also, it was my birthday on Tuesday. My endlessly excellent lady Jazz got me tickets to see a Stewart Lee stand-up marathon in London next weekend which should be EXTRAORDINARILY BRILLIANT if not clever, cynical and endearing. I love that man. He shouldn't pile his website with negative reviews though, eh? Silly sod. My main man Chris bought me Michael Palin's Around the World in Eighty Days and I spent the afternoon doodling and watching his adventures. Which is possibly the most calming bit of television ever recorded - a world were everyone is a bit silly and very human AKA the world we live in. Reassuring.
Other lovely men bought me quantities of cider and I have been slowly ingesting them and writing EXTREMELY lengthy blogs.
There'll be LESS in a fortnight. Thank you so much for reading it all if you have. Have a coconut.
O x